Analysis Impact of Intrinsic and Extrinsic Motivation on Job Satisfaction in Logistics Service Sector: An Intelligent Neutrosophic Model
Keywords:
Logistic Service Industry, Logistic Service Provider, Neutrosophic Set, MCDM
Abstract
The success of every company relies heavily on the happiness of its workforce, and the logistics service sector is no exception. The capacity of logistics suppliers to satisfy the demands of their clients depends on the efficiency and efficacy of operations, which in turn is affected by the level of employee satisfaction. This paper aims to analyze the factors of employee satisfaction in the logistic service industry to achieve productivity and a satisfied workforce. This paper used the multi-criteria decision-making (MCDM) methodology to handle various factors. The SWARA method is an MCDM method used to compute the importance of factors. The SWARA is integrated with the neutrosophic set to handle uncertain data. This paper used single-valued neutrosophic numbers to evaluate the factors by the experts. The application of the proposed methodology is conducted. We achieved the positive work ecological is essential to the success of any business, and this is especially true in the logistics service sector. When workers feel appreciated and supported, they are more likely to give their all at work, which in turn boosts output, morale, and retention. However, given that job security isn't the only element that influences employee happiness and retention, some would say that it's the least essential aspect. So this paper can aid any organization to increase productivity and employee satisfaction by showing the importance of various employee satisfaction in logistic services.
Downloads
Download data is not yet available.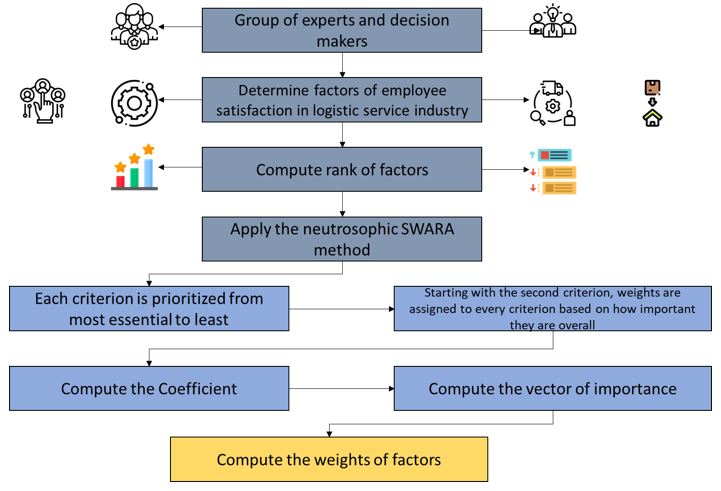 Downloads
How to Cite
Zenat Mohamed, Mahmoud M.Ismail, & Amal F.Abd El-Gawad. (2023). Analysis Impact of Intrinsic and Extrinsic Motivation on Job Satisfaction in Logistics Service Sector: An Intelligent Neutrosophic Model. Neutrosophic Systems With Applications, 4, 43–52. https://doi.org/10.61356/j.nswa.2023.20
Section
Research Articles